Prakriti Foundation in association with Rajiv Menon Productions presented 'Over Tone', a documentary on Dr.Umayalpuram K Sivaraman which was written and directed by Rajiv Menon on the 12th of January, 2016 at 7 pm at Amethyst.
About the Movie
Over Tone is a documentary based on the life and music of the legendary South Indian Classical percussionist, Umayapuram K Sivaraman. Apart from being an intimate portrait of the great Mridnaga vidwan and his quest for excellence, the film also aims to understand Carnatic music and the role of various communities from its origin to its present day popularity.
Conceptualised and directed by Rajiv Menon and co-produced by Prakriti Foundation and Rajiv Menon Productions, Over Tone also features otherpercussion legends from India as well as Jazz musicians from around the globe.
Cinematography – Rajavel, Mahesh and Siddharth
Editing – Praveen Prabhakar and Praveen Anthony
Live Sound – Lawrence
Assistant Directors – Sanjay Suresh and Dinesh Muthukumar
About Umayalpuram K Sivaraman
Umayalpuram Kasiviswanatha Sivaraman (born 17 December 1935) is a Carnatic mridanga vidwan. He was awarded the Madras Music Academy's Sangeetha Kalanidhi in 2001. He is the son of Sri P. Kasiviswanatha Iyer and Srimati Kamalambal. His father was a medical doctor by profession but encouraged his musical pursuits.
He learned the art of the Carnatic mridangam from four illustrious masters of the art – Sri Arupathi Natesa Iyer, Sri Tanjavoor Vaidyanatha Iyer, Sri Palghat Mani Iyer & Sri Kumbakonam Rangu Iyengar. The pursuit of this art under the gurukula system for well over fifteen years did not deter him to qualify for law, and he graduated from The University of Madras with a B.A. & B.L.
He has accompanied several top ranking Carnatic & Hindustani musicians in their concerts, such as Sri Ariyakudi Ramanuja Iyengar, Sri Musiri Subramania Iyer, Sri Palladam Sanjeeva Rao, Sri Mysore Chowdiah, Sri Rajamanickam Pillai, Sri Papa Venkataramiah, Sri Dwaram Venkataswami Naidu, Sri Mudikondan Venkatarama Iyer, Sri G. N. Balasubramaniam, Sri Madurai Mani Iyer, Sri Maharajapuram Viswanatha Iyer, Sri Alathur Brothers, Sri Chembai Vaidyanatha Bhagavathar, Dr Semmangudi Srinivasa Iyer, Dr M. Balamuralikrishna, Sri Nedunuri Krishnamurthi, Sri Voleti Venkateswarulu, Sri S. Balachander, Sri T.R. Mahalingam, etc. He has to his credit several jugalbandhi concerts with the top artistes of Hindustani music like Pt. Ravishankar, Sri Hariprasad Chaurasia, Pt. Ram Narain and top tabla artistes like Pt. Kishen Maharaj, Pt. Samta Prasad, Ustad Allah Rakha, Mr. Zakhir Hussain and others. He has trained many students in the art of mridangam and continues training more disciples.
He was conferred the award 'Padmashri' by the Government of India in 1988. He received Sangeet Natak Akademi award for Mridangam for the year 1992. He was conferred Kalaimamani, awarded by the Iyal Isai Nataka Mandram of Tamilnadu. He had been appointed 'State Artiste' of the Government of Tamil Nadu from 1981 for a period of six years. His Holiness Sri Sankaracharya Swamigal has appointed Sri Sivaraman as 'Asthana Vidwan' of Shri Kanchi Sankara Mutt. His Holiness Shri Sankaracharya Swamigal of Shri Sharada Peetam Sringeri has bestowed on Sivaraman the title of Mridanga Kalanidhi and has appointed him as 'Asthana Vidwan' of Shri Sarada Peetam, Sringeri. His titles include Laya Jyothi, Laya Gnana Bhaskara, Sangeetha Kala Sikhamani, Mrudanga Nadamani (bestowed by His Holiness Shri Sankaracharya of Kanchi Mutt), Mrudanga Chakravarthi, Nada Sudharnava, Tal Vilas, and Laya Gnana Tilaka, etc.
He was awarded the Padma Vibhushan, India's second highest civilian honor, on the occasion of the country's 61st Republic Day observance on 26 January 2010 and received an honorary doctorate from the University of Kerala in 2010.
About Rajiv Menon
Rajiv Menon, founder of "RAJIV MENON PRODUCTIONS", born in Kerala, joined the Film and Television Institute of Chennai in 1981, to study cinematography.   In 1984, he went to America to train under cinematographer Garret Brown, best known for his invention of the Steadicam.
In 1986, Rajiv founded "Rajiv Menon Productions", popularly known today as "RMP", where he started his career in TV commercials.  Rajiv received his first national recognition through his Asian Paints "Pongal" commercial, which he both shot and directed and music for his was composed by A R Rahman.  RMP has since produced over 300 TV commercials for leading brands in the country, for over 25 years.
Rajiv's career in cinema took off in 1984, when he did the cinematography for the award winning feature film "BOMBAY".   His skill as a cinematographer received much praise, and since, he has worked with accomplished filmmakers like Mani Ratnam, Shyam Benegal and Girish Karnad.    His latest contributions have been in Mani Ratnam's "Guru" and "Kadal".
Rajiv's first directorial venture "Minsara Kanavu" (Electric Dreams) was not only a popular hit but also fetched four national awards for best choreography, best playback – male & female, and best music director. His second directorial venture was the multi-starrer "Kandukondain Kandukondain" (I have found it), besides winning the best director and best picture awards at filmfare, was screened at numerous International Film Festivals like the London Film Festival, The Washington DC Festival and the Danish Film Festival.  A song from the film also won singer Shankar Mahadevan his first National Award.
Rajiv Menon is a tremendously hardworking individual and his versatility extends across everything from being an ad photographer, cinematographer, director, actor, singer and orator, making him one of the country's most reputed and sought after film makers.
Rajiv is equally interested in giving back to the industry a range of talent it needs to constantly renew itself.  It  is with this principal aim that he founded the "MINDSCREEN FILM INSTITUTE"    —  www.mindscreen.co.in , a film school that nurtures tomorrow's talent by providing comprehensive training across all facets of Cinematography, Screenwriting and Filmmaking.
Press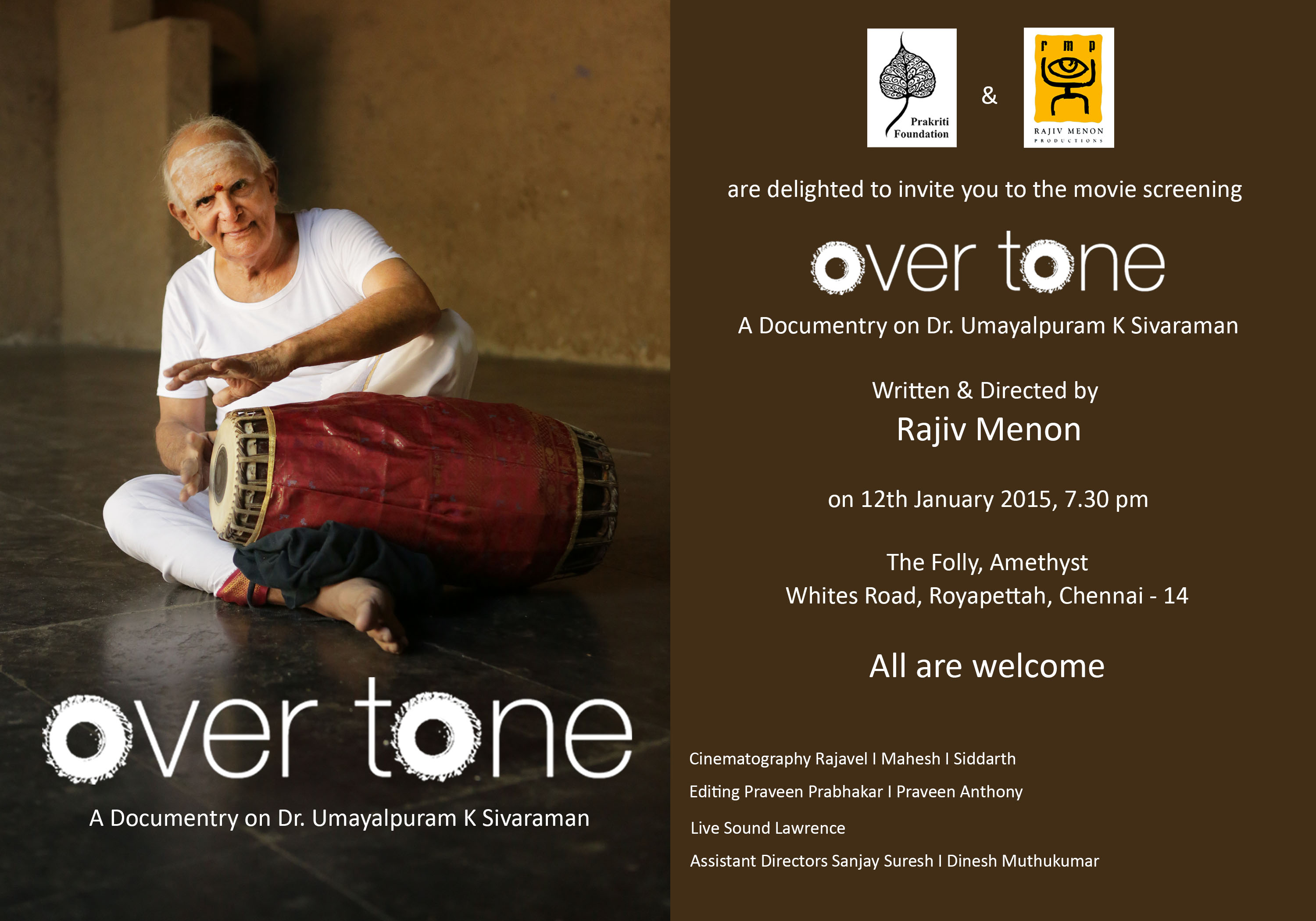 Comments are closed.