Prakriti Foundation in association with Amethyst launched the book POSKEM – Goans in the Shadow written by Wendell Rodricks on the 10th November, 2017 at 7 pm at The Folly, Amethyst.
About the Book
Acclaimed Fashion Designer and writer Wendell Rodricks delves into a fictional story based on fact in Poskem. A story that mixes the shadowy world of a Goan community hidden from the outside world in a magical realism tale infused with recipes. Goans are presently experiencing the last generation of Poskim. Young children taken in by wealthy families and retained most often as servants. In a narrative that spans Portuguese Goa to post the Liberation of India's golden state, Poskem takes a reader to locales from Bombay to Lyon, Pune to Paris, into the world of the Poskim people and Goan recipes. Through happiness and hope, despair and delusion, Wendell Rodricks takes the reader on a voyage of an unspoken, unheard of and shamefully silenced world of Goa's Poskim. This is Wendell Rodricks first attempt at fiction told in a rich, lyrical style that will stay etched in memory. Poskem is a tribute to Goa's last generation of a people that would soon be forgotten if not for Wendell Rodricks' book of a people who deserve that their story be told for posterity.
About the Author
Mumbai born Wendell Rodricks studied Fashion Designing in the USA and France from 1986 to 1988. Wendell's first collection from Goa earned him the title 'Guru of Minimalism' and his next collection in 1995 pioneered the concept of 'resort wear' and 'eco-friendly' garments at a time the words were not yet coined in India.
A designer with an international presence Wendell has presented his unique garments, inspired by Goa and India, at major fashion events. Rodricks has the honour of being the first Indian designer to be invited to show at the World's largest garment fair IGEDO in Germany (1995), Dubai Fashion Week (2001), Malaysia Fashion Week (2002), the prestigious Paris Pret-a-Porter salon (2007) and the world's biggest organic fair BioFach in Nuremberg, Germany (2012). In 2007, the Confederation of Indian Industries invited the designer to showcase two fashion shows in Bryant Park, New York to celebrate the 60th year of India's Independence. Rodricks has also, shown at Festival of India (1993) in Beijing and Shanghai in China and has shown in Sri Lanka.
Wendell Rodricks was instrumental in planning the first ever Lakme India Fashion Week in 2000 and guiding it in an advisory capacity during its formative years. In 2000, 2003 and again in 2008 he was honoured as the 'finale' artist for LFW.
In 2010 Wendell revived the weaving of the traditional Goan Kunbi Sari, a two year project involving identifying and training weavers in the use of sari looms. This unique Kunbi Sari, and other garments using the same weave, were showcased at Wills Lifestyle India Fashion Week. Sari lovers like Sonia Gandhi, Sheila Dixit and Pratibha Patil have bestowed praise on the designer for reviving a dying craft.
In January 2012 Rodricks turned author with Moda Goa – History and Style published by Harper Collins. This book got rave reviews for its portrayal of long forgotten aspects of Goa's cultural history and costume history. In August 2012 Wendell's memoir, The Green Room, was published by Rupa Raintree and launched at Lakme Fashion Week.
Wendell has written for magazines, coffee table books and anthologies.
In 2014, the designer was awarded India's fourth highest civilian honour, the Padma Shri by The President of India, Pranab Mukherjee for Art (Fashion Design), honoured by the All India Konkani Parishad, bestowed the Rainbow Warrior Award by Kashish Film Festival and conferred the distinction of Knight in the Order of Arts and Letters (Chevalier de l'Ordre National des Arts et Lettres) by The Ministry of Culture and Communication of France.
Press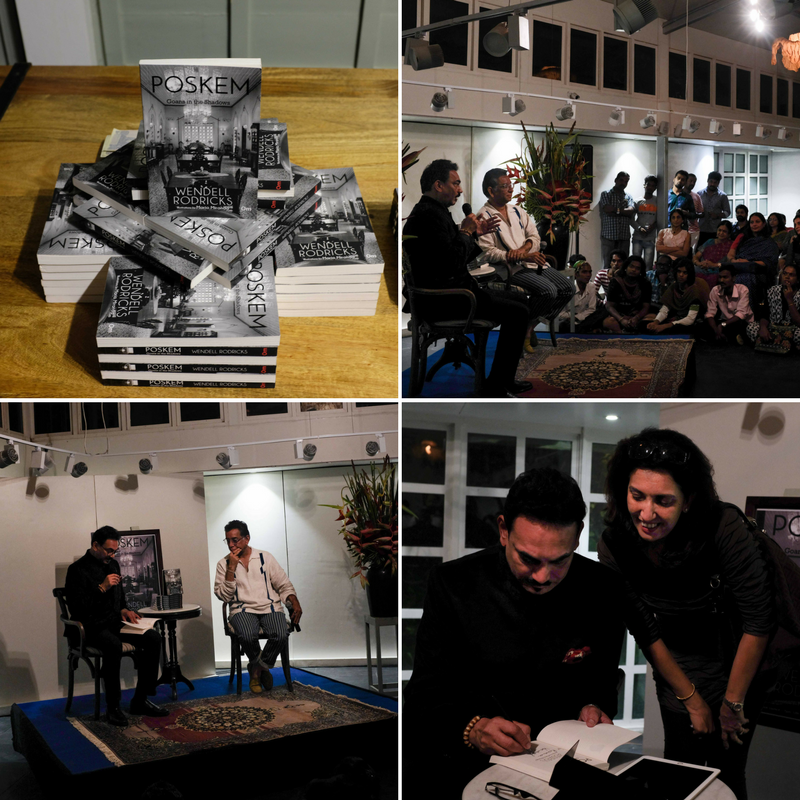 Comments are closed.