As a part of Poetry with Prakriti monthly series for June, we were delighted to launch of a book titled 'To My Violin' written by poet Geeta Varma.
Date | June 28th, 5.30 pm
Venue | Amdavadi, 23/A, North Boag Road, T.Nagar, Chennai – 600017
About the Book
"Refreshing imagery, gentle nostalgia, flickers of insight and a dash of teasing irony accentuate Geeta Varma's debut collection of poems, To My Violin. Her poetry expresses her heartfelt reflections on a variety of topics from the mundane to the mystical and resonates with the reader on several levels"  – Veena Seshadri, Editor & Author
About the Poet
There's poetry on paper. And there's poetry in storage, whose fragrance wafts in its own secret garden. Geeta Varma's poems were of the garden-variety until now. Her first book of published poems is addressed To My Violin. Her poetry is now open to the world, but the muse is still speaking to the music. Having lived in different parts of India, she grew up principally in Kerala and is now settled in Chennai with her family. But the muse is still unsettled and seeking, as you will see. Apart from her academic qualifications, her education has been from life, teaching school children, running a magazine, taking creative life classes, writing for major newspapers & magazines, and travelling.
About Poetry with Prakriti
'Poetry with Prakriti' began in 2007, as a ten-day annual festival. The aim was to get poets from varied backgrounds to read and share their poetry in various languages at different locations across the city. What makes the Poetry with Prakriti unique, is that readings are held in diverse places bringing poetry closer to the public. Some of the poets who have been featured in the past include Alvin Pang, Geralyn Pinto, Bishnu Mohapatra etc. We are delighted to announce that Poetry with Prakriti has become a monthly series since August 2017. Various poetry events and performances are being conducted in different venues every month.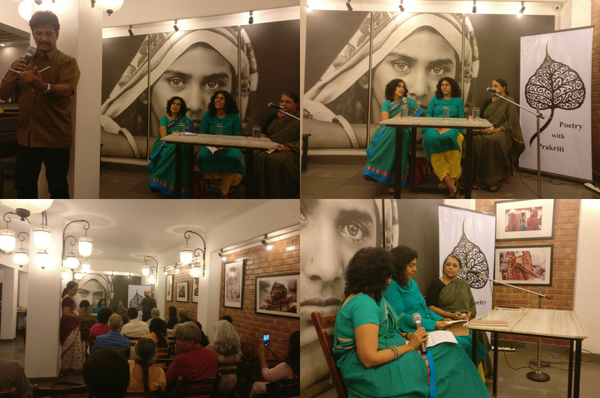 Comments are closed.