Internationally acclaimed performance companies Graeae (UK) and La Fura dels Baus (Spain) present "Aruna and the Raging Sun" a large-scale outdoor spectacle. This showcase is generously supported by Arts Council England, British Council, Wellcome Trust, Apollo Hospitals, Vidya Sagar, ArtSpire, Stray Factory and numerous disability charities, arts organisations and companies in Chennai.
This event is part of the final phase of British Council's UK-India Year of Culture that aims to celebrate modern day India and inspire millions of young people to build a shared future.
Date & Time | February 24th (Saturday), 6.30 p.m
Venue | Lady Willingdon College Campus, Marina Beach Road, Chennai
About the Event 
The production includes 100 disabled and non-disabled performers including Chennai based performers and local residents to deliver one of the largest outdoor spectacle performances the city has ever seen, providing a huge cultural platform for the promotion of disabled artists and disability rights.
Featuring 20-metre-tall puppets, fireworks and jaw-dropping aerial performances; this tells the story of a disabled superhero helping humanity overcome the challenges of climate change. This astonishing event tells a story of empowerment, of prevailing against the odds, and of an epic battle to save the Earth.
About Graeae Theatre Company
Founded in 1980, Graeae are a force for change in world-class theatre, boldly placing D/deaf and disabled artists centre-stage and championing creative accessibility. Graeae also fosters the development of D/deaf and disabled artists through a wide-reaching training and education programme for young people, emerging artists and sector leaders.
As well as producing critically acclaimed work within mainstream theatre spaces, within recent years Graeae have also become synonymous with large-scale outdoor spectacles, engaging large teams of D/deaf and disabled artists and reaching audiences of thousands. Recent productions include Prometheus Awakes, The Iron Man and The Garden. Jenny Sealey, Artistic Director and CEO of Graeae, also co-directed the London 2012 Paralympic Games Opening Ceremony.
Graeae's international programme includes In Touch with Russian based companies Inclusion and Theatre of Nations, productions of Romeo and Juliet in Bangladesh and Japan, a re-staging of The Garden for the Brazilian Cultural Olympiad alongside taster workshops in circus skills, and the setting up of a performing arts school for young D/deaf and disabled students in Karachi, Pakistan.
Graeae is a National Portfolio Organisation of Arts Council England.
www.graeae.org | Twitter @graeae
About La Fura dels Baus
La Fura Dels Baus, an eccentric and innovative theatre company from Spain, are pioneers in the reconceptualization of two of the most significant aspects of the dramatic art: the theatrical space and the public. They have redefined the space by moving it to non-conventional ones – and changed the public role from passive to active, which meant a breaking of the "fourth wall".
The incessant curiosity and the need to explore new artistic trends have developed, through a process of collective creation, a unique language, style and aesthetic. Nowadays, this is called "Furan language", which has been implemented in different artistic genres, such as opera, cinema and large-scale performances. The ability to bind and adapt carnality and mysticism, nature and artifice, rudeness and sophistication, primitivism and technology, in every performance, has given La Fura dels Baus its international success and prestige.
www.lafura.com | Twitter @LaFuradelsBaus
Press
The Times of India, 26 February 2018 – Led by disabled, this performance is set to soar high
Zoom, Times Now, 20 February 2018 – This outdoor spectacle will show how differently-abled people can overcome barriers in the performance space
The New Indian Express, 22 February 2018 – The rhythm of signs
The Hindu, Sunday Magazine, 23 February 2018 – Amit Sharma of Graeae Theatre on staging a production with disabled artistes in Chennai
The Hindu, 28 February 2018 – A celebration of humanity, up in the sky
Times of India, 26 February 2018 – Chennai: Led by disabled, this unique performance leaves audience awestruck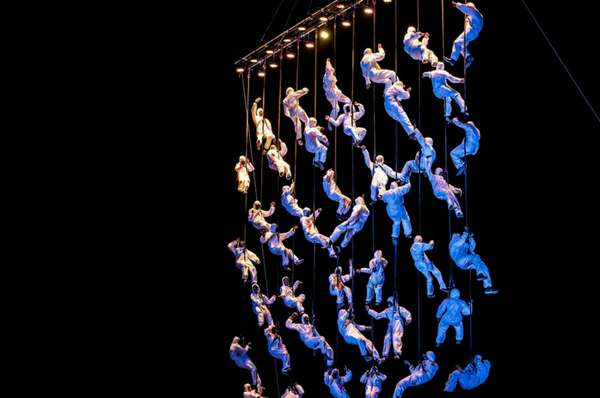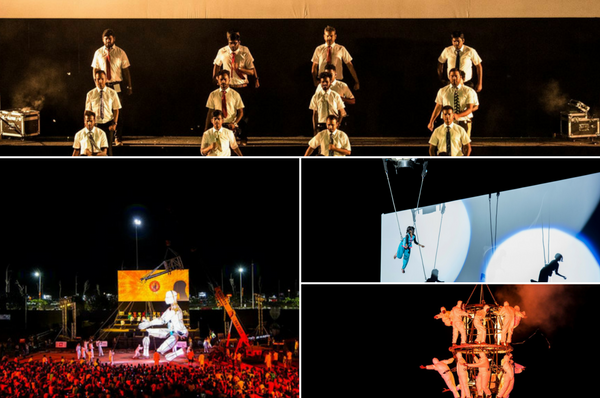 Comments are closed.