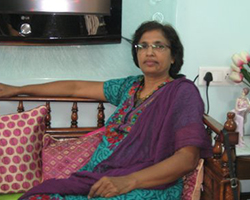 Vimala, script-writer for Etv-2 Sakhi, a program about women, is a poet and writer of short stories. She is a consultant of Aman Vedika Rainbow homes for children from marginalised and stigmatized backgrounds and without adult responsible care. She conducts sessions for care-givers of the children to help them improve and deepen their perspective. She also helps the children edit their own magazine.
Vimala's literary works have been translated and published in Hindi and English. Some of them have been published in Anthology of Women's Poetry by Penguin Books, Women Writings in India, edited by Susie Tharu & K. Lalitha, Indian Literature- Sahitya Academy's Bi-Monthly Journal, Interior decorations –  Edited by Ammu Joseph, Vasanta Kannabiran, Ritu Menon, Olga, Sweeping the Front Yard –Poems and Stories of Women – Edited by Sampurna Chattarji, among others.  2 of her poems have been included in the BA curriculum in Andhra Pradesh, and in the curriculum of Bachelor of Arts by the Ambedkar open university of Andhra Pradesh.
Ms. Vimala's participation in prestigious events include:
Represented South Indian Poets in International Festival of poetry "Kritya" 2011 in Nagpur, and chaired one session on "Gender Writing".
Participated in "An evening of Poetry" conducted by Alliance Francaise of Hyderabad along with Amadou Lamine Sall.
Poetry recital in Kendra Sahitya Academy conferences in Kerala and Bhopal.
Ms. Vimala has co- authored 'Maakodhee Chandaalam' (Lives of Manual Scavengers in Andhra Pradesh), with Gita Ramaswami, published by Hyderabad Book Trust (HBT).  A collection of short stories 'Few stars and some tears' is under publication.
Her best known published works include:
Adavi Uppogina Rathri (The Night of the Forest's Uprising) – Anthology of poems in Telugu.
Mrugana (Searching) – Anthology of poems in Telugu.
Maa (Mother) translated to Hindi and book published.
Comments are closed.